The Hemogram or complete blood count (CBC) is used as a broad screening test to check for such disorders as anemia, infection, and many other diseases.It is actually a profile of tests that examines different parts of the blood and includes RBC Count, WBC Count, Hemoglobi, Platelet Count, Red Cell Distribution Width (RDW).
Sequoia raised funds to Jnana Prabodhini for their activity of Hemogram testing camp held in the Velhe Taluka against woman health issues.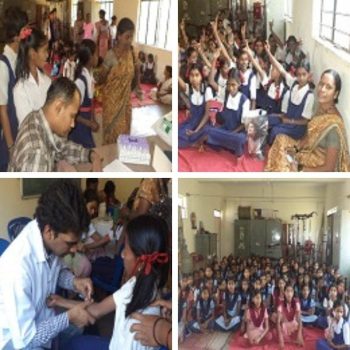 Jnana Prabodhini has been working in the Velhe Taluka of Pune district for more than 25 years. Women's health is focus area and they have been running a pre-natal OPD in Velhe for the past 6 years. Velhe is one of the most backwards talukas in Maharashtra and Jnana Prabodhini regularly encounters young kids with malnutrition and anemia. The problem of anemia is especially worrisome in adolescent girls (between 13-18 years of age). Because the unfortunate reality is that they are going to be mothers soon. And if the mother is anemic, the children will be weak too.
Jnana Prabodhini had their first Hemogram testing camp. It was in Panshet High School and tested 300 + girls. The government machinery helped them for their camp. A ZP elected member visited the camp and felicitated the Janakalyan team.
Change in quality of life of rural women by introducing Biomass Pellet Technology
Sequoia raised funds to Jana Prabodhini for their activity of Introducing Domestic Pellet Stove for Rural Cooking.
With the help of "Gangotree Eco Technologies., Pune" Jana Prabodhini introduce smokeless chullha for rural woman healthy life.
These chullha/ stove will burn with pellets made from agricultural waste (Examples- Coconut Waste, Soya bean thrash, Coconut Frond, Groundnut waste, Sugarcane Thrash, Tree Cutting, Leaf Litter, Agro residue (Rice straw, Cotton straw, every other biomass etc.)
Pioneer Medical Research Foundation's Project Palav
Sequoia raised funds for Pioneer medical research foundation for their project saving babies with weak lungs Palav2014 .
To know more about PALAV please visit Pioneer Medical Research Foundation
Our contribution would help to save life of new born babies.
Cleaning at Kanifnath Gad
Our Country from dream can only happen when we keep our public places clean like our home.
Sequoia takes an initiative to clean Kanifnath Gad.
We, as Indian people, don't think too much while we throw plastic packets, garbage, bottles on roadside from our cars, bikes etc. and the roadside or any other area becomes dumping ground with non-decomposable waste whose size increases day by day.
The intention of telling you this summary is, even if we cannot clean such places on daily basis, we should think twice before we throw any small waste at public places.
Appreciable effort by Sequoia Team. Will motivate people across India to take initiative to clean INDIA.